Day 3 of my Newfoundland trip started at the crack of dawn, when I was awakened before 4am by the alarm of the logger in the room next to me at the Lakeview Inn in Millertown.  I tossed and turned for the next hour and a half and then made my way downstairs, where I had a terrific breakfast with Antler Gold's exploration team. After breakfast, we headed to the team's exploration home base, a rented cabin a few blocks away from the Inn.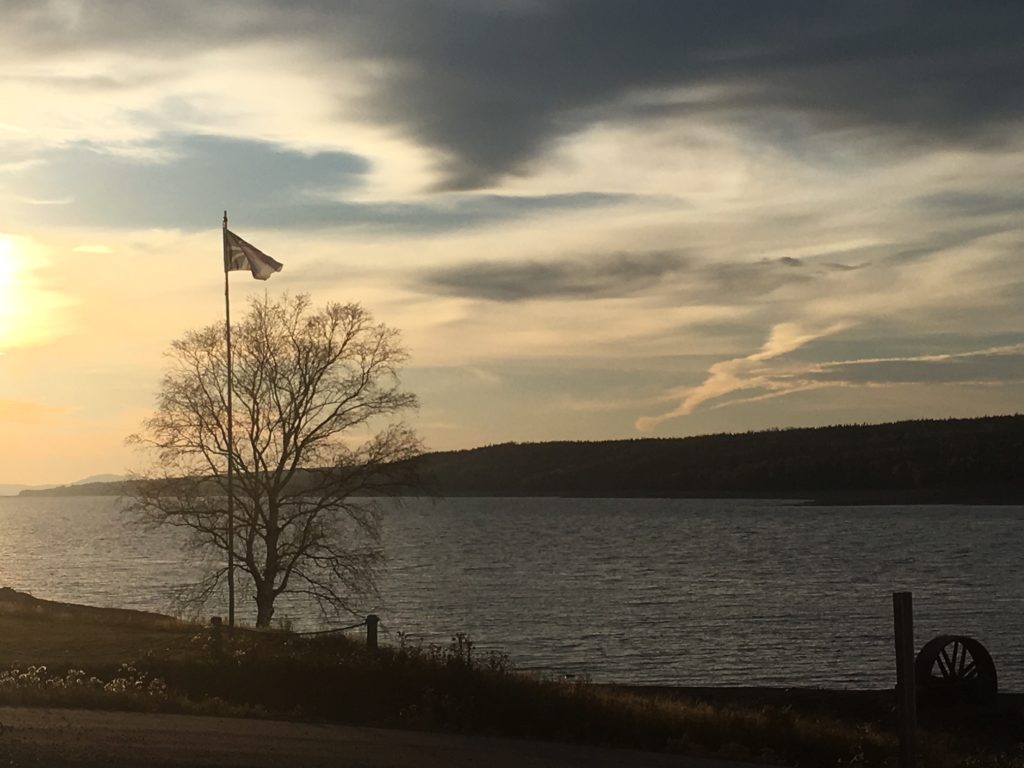 Millertown located on the Shores of Red Indian Lake
For the exploration team, each day starts here with a safety review and a delegation of assignments by  Exploration Manager, Dave Evans. By about 7 am, we were on the road headed south of Millertown, down a set of logging roads, to Antler's Wilding Lake Gold Project.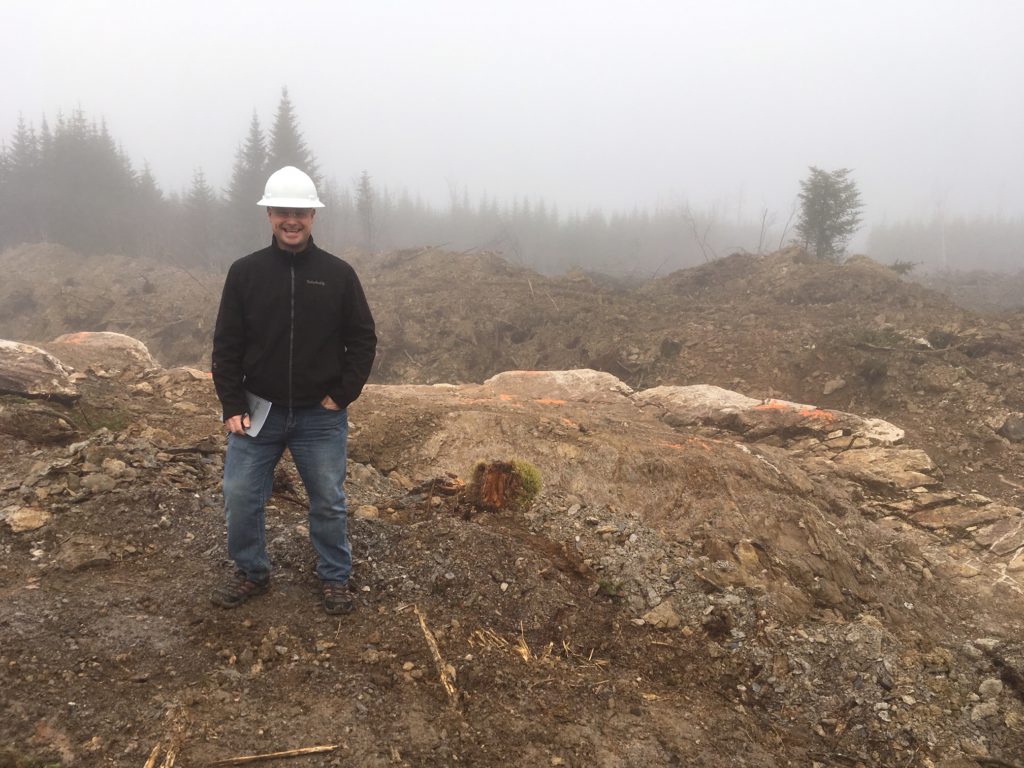 Yours Truly standing in Antler's Elm Zone Trench
Before getting any further into my site visit report, I'm going to share some interesting facts about the history of Millertown.
Millertown
Just south of Buchans junction, which sits at the north end of Red Indian Lake in central Newfoundland, is Millertown.  Millertown was established in about 1900 by Lewis Miller, a timber baron and merchant from Crieff, Scotland.
Having exhausted his timber lands in Sweden, Miller brought a team of Scots and 100 Swedish lumberman to the Red Indian Lake area, in an effort to establish a logging operation that could supply the British Empire with pine timber.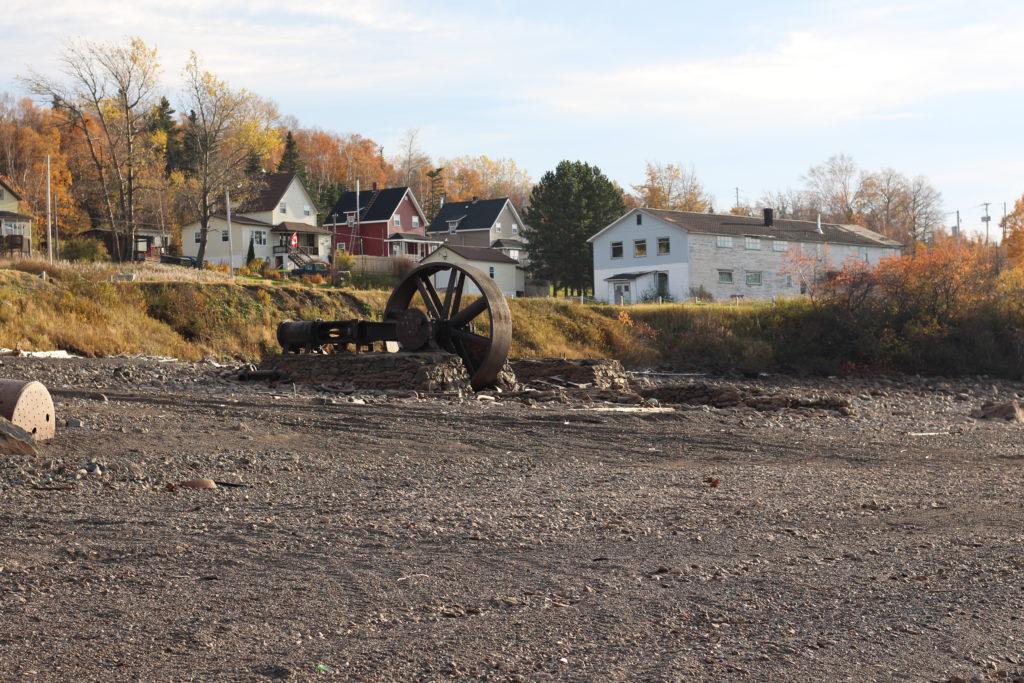 What is left of the old saw mill in Millertown
The town was created to house this team of lumbermen as they built 80 Swedish style, two-room cottages along the shores of the lake. Additionally, they constructed a school and a church on the hill overlooking the lake, which still stands today.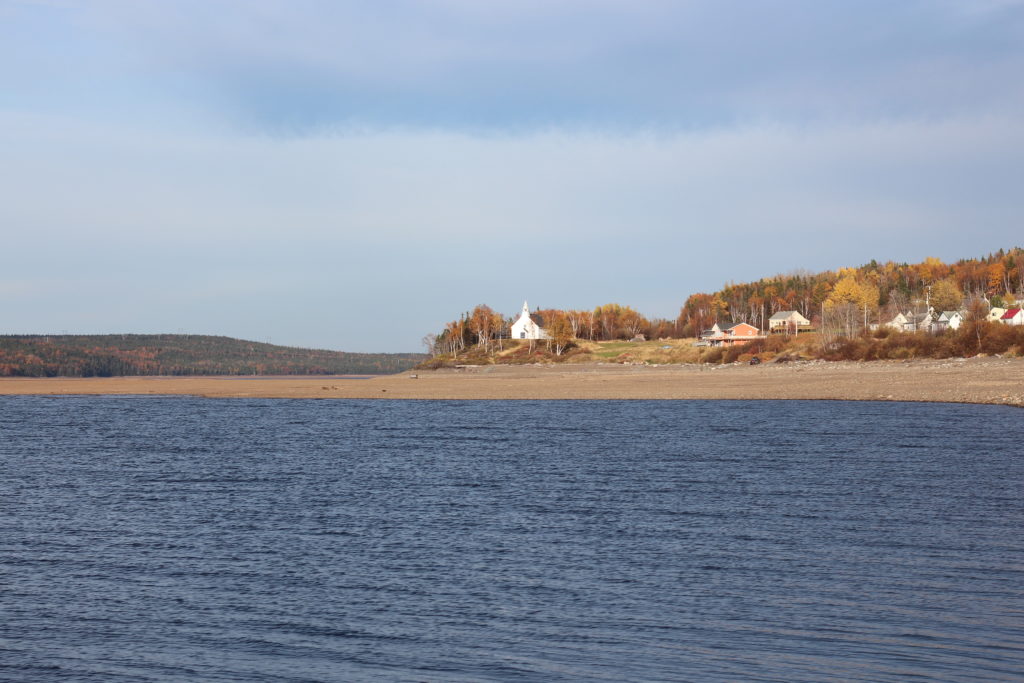 Millertown Church and homes along the shores of Red Indian Lake
During my visit, I asked about the logging industry in the area, and was told that since the closure of the pulp and paper mill in Grand Falls, logging in the area has really declined with only a small number of companies still in operation. Unfortunately, the industry's decline has had a major effect on the town and many younger families have left.
Shores of Red Indian Lake
With the area's great geology and the access provided by the logging roads, however, a mining renaissance could be coming to Millertown and the surrounding area. Companies such as Antler Gold, Marathon Gold and Torq Resources are exploring heavily in this general region. A large discovery and the development of a mine could bring much needed cash and jobs to this beautiful area in central Newfoundland.
The Wilding Lake Gold Project
After driving for about an hour on the rough logging roads, we arrived at the point of the original Wilding Lake gold mineralization discovery, which occurred just a few years ago. The gold was found in 2015 by prospectors, Brian Jones and Gary Rowsell, in quartz boulders alongside a new logging road. Grab samples from these boulders assayed up to 74.8 g/ton gold.
Approximate location of the first boulders discovered by Jones and Rowsell
Jones and Rowsell eventually sold the property to Altius Minerals, which is a large mining royalty company based in St. John's, Newfoundland and Labrador. Altius then carried out further exploration activities in the fall of 2016, such as soil and basal till sampling, airborne and ground geophysics.
Fast-forwarding to today, Altius has since optioned the property to Antler Gold, who is currently conducting a systematic exploration program of the property with soil sampling, trenching and, most recently, a 2,500m drill program of some highly prospective targets.
To note, Antler's Wilding Lake Project covers 215 sq. km and more than 50 km of strike length of the projected structural trend that is believed to control the regional gold mineralization. This trend is the same as Marathon Gold's Valentine Lake Gold Camp, which currently boasts a total over 2 million ounces of 43-101 compliant gold resources in the Measured and Indicated, and Inferred Resource categories.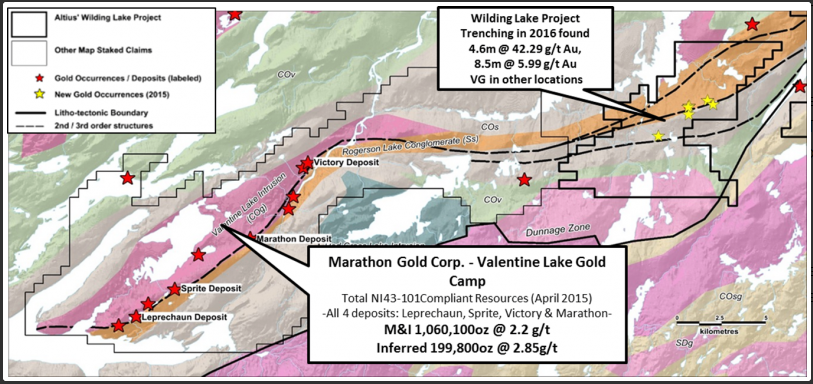 Wilding Lake Gold Project Geology Map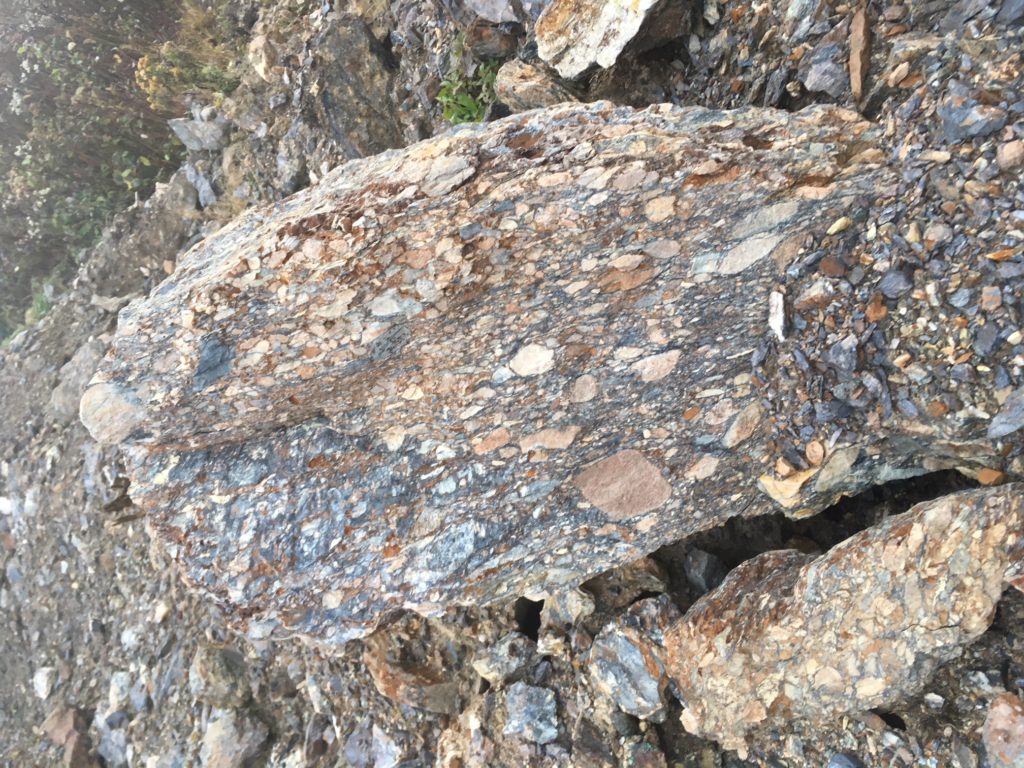 Text Book Example of Rogerson Lake Conglomerate
Gold Mineralization Zones
In 2016, 5 gold mineralization zones – Alder, Taz, Elm, Cedar and Dogberry – were found by Atlius' exploration team. The gold showings mainly consist of quartz-tourmaline veins containing clots of coarse-grained chalcopyrite, hematite, malachite and visible gold is hosted by the Rogerson Lake Conglomerate.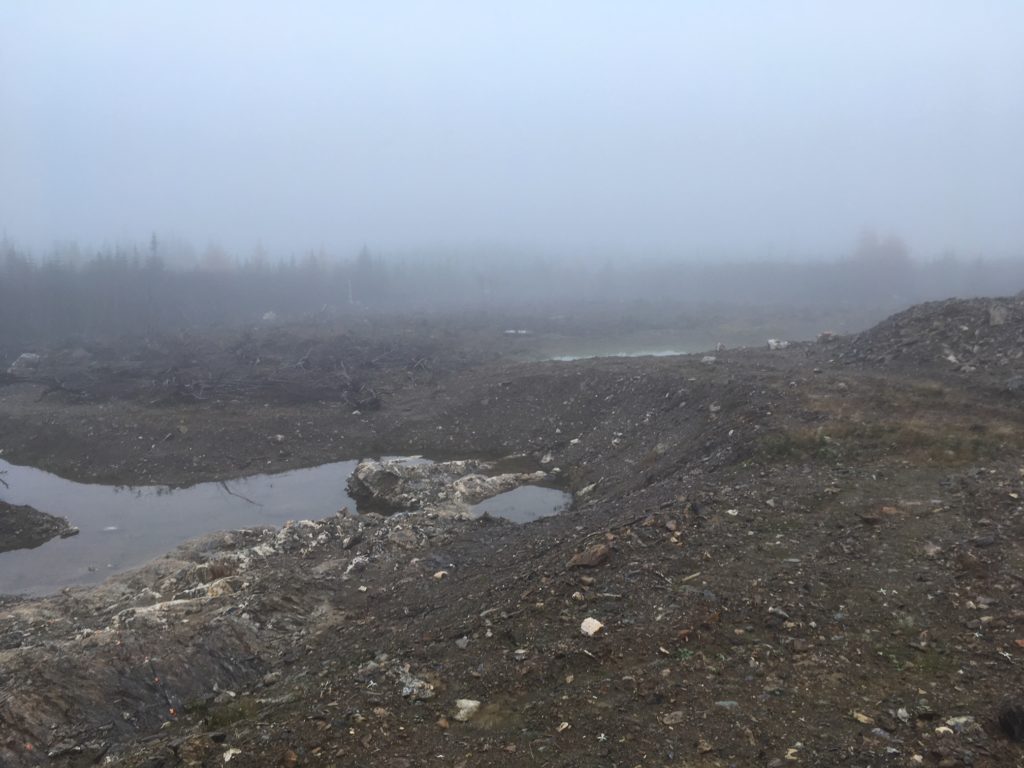 Taz Zone Trench located in Close Proximity to Original Boulder Discovery
In the picture below, the purplish coloured rock is the Rogerson Lake Conglomerate. As the conglomerate nears the quartz veining, its colour changes to brownish. The Elm Zone was the most developed trench I saw, and the focus of drilling at the time of my visit.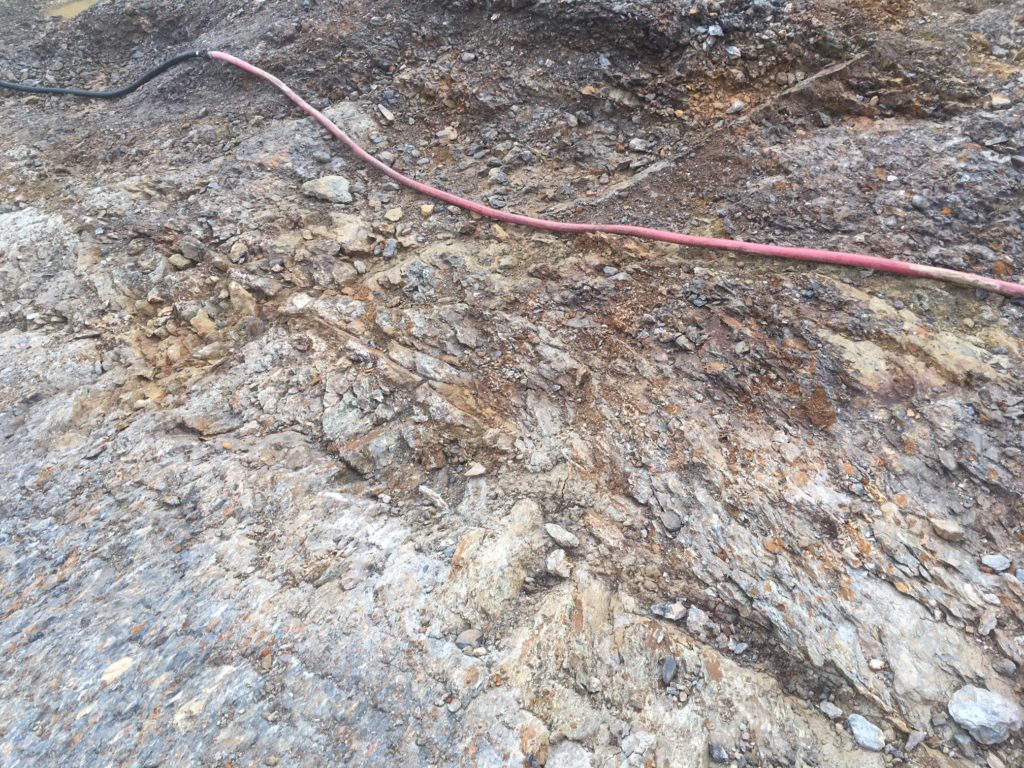 Elm Zone Trench – Rogerson Lake Conglomerate, bottom left purplish colour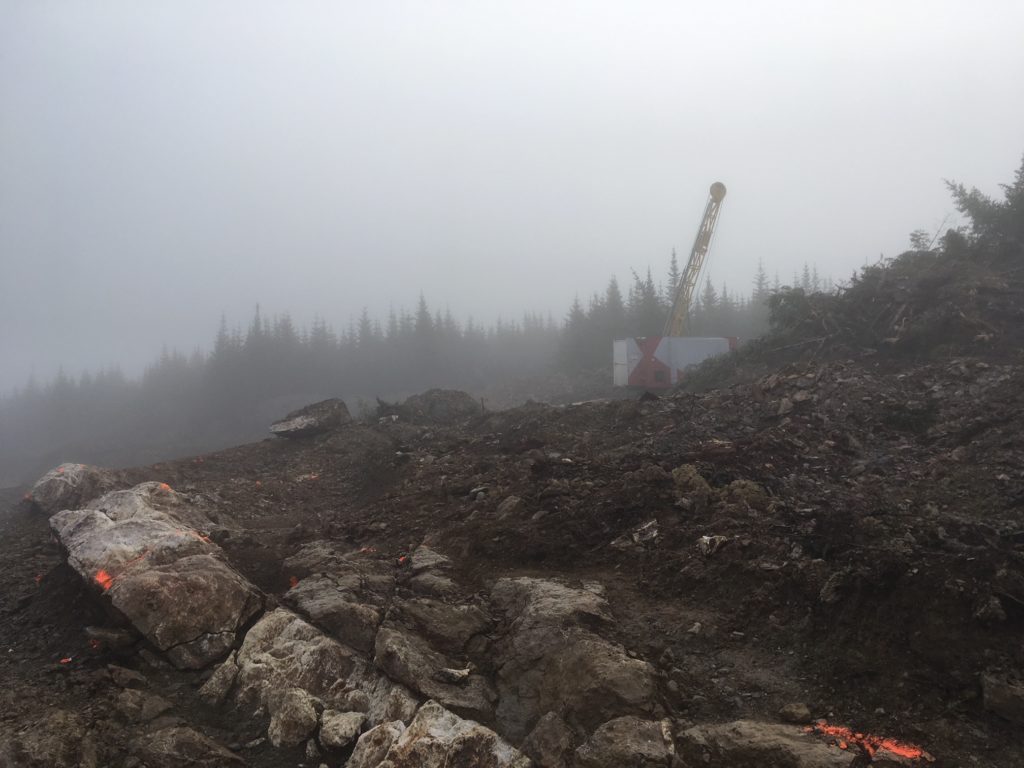 Elm Zone Trench – Site of drilling on the day of my visit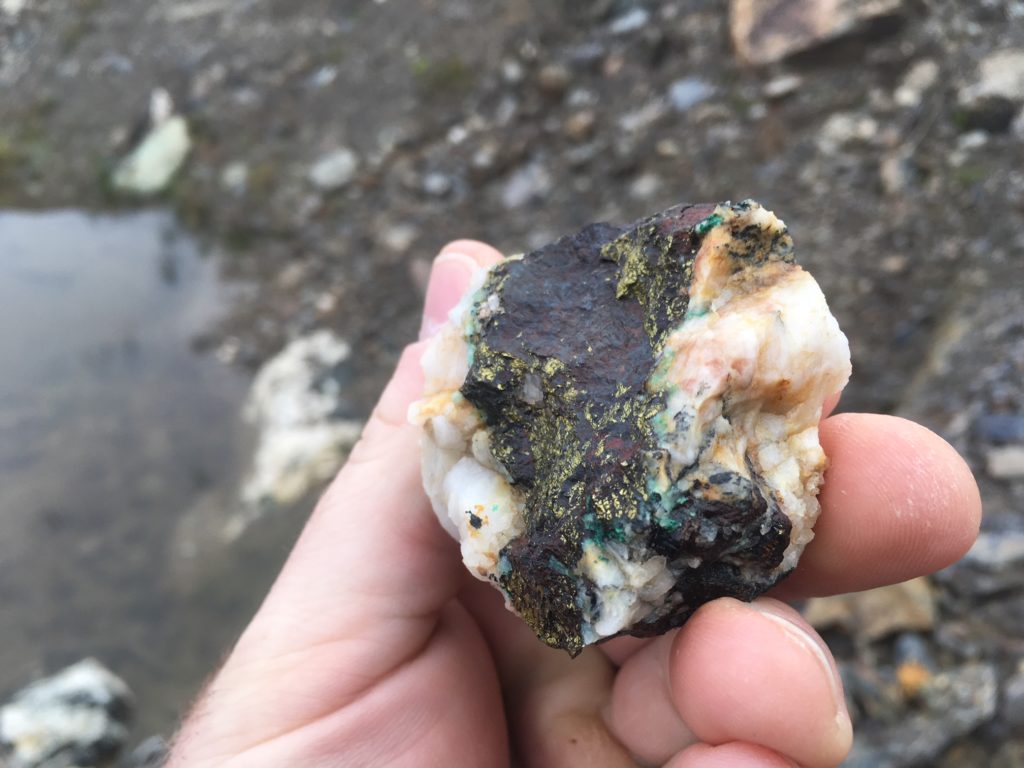 Taz Trench Rock
Systematic Exploration
The drive down the logging roads to Wilding Lake gave Exploration Manager Dave Evans and I a chance to talk about the project, and the systematic approach they are using to find gold mineralization on the property. In the mining industry, a systematic approach is paramount to conserving capital and making every dollar count.
Beginning in the summer, Evans and his team set out to explore as much of the property as possible, taking soil samples and mapping the property, in hopes of identifying further targets for this fall's 2,500m drill program.
This systematic approach is particularly important for exploration in Central Newfoundland and Labrador because of the amount of overburden which masks most outcroppings. This overburden layer can vary in depth from 0.5m to 15m throughout Newfoundland and Labrador.
The layering of the soil can be seen when standing in the dug trenches, as the top thin layer of organics clearly sticks out on top, followed by an overburden blanket of varying thickness, which is followed by basal till along the top of the rock.
Evans pointed out that the key to proper soil sampling is to get a sample below the organics in the A horizon, down to the brownish soil, where there is the possibility for gold to be present. When high potential soil samples or boulders are found, the geologists identify the path of the glaciers, which would have worn the mineralized outcrops as they moved across, many years ago. The exploration team then moves up ice of the high gold in soil or boulder samples to (hopefully)  find the buried quartz vein outcrops.
By overlaying soil and till sampling data with the geophysical data, followed by trenching and channel sampling along the quartz veins in each zone, the team has identified high potential targets which, at the time of my visit, were the focus of the drilling.
Evans told me that, to date, they have collected over 6000 samples across the property. In the July 26th, 2017 news release, Antler released the gold soil geochemistry diagram seen below.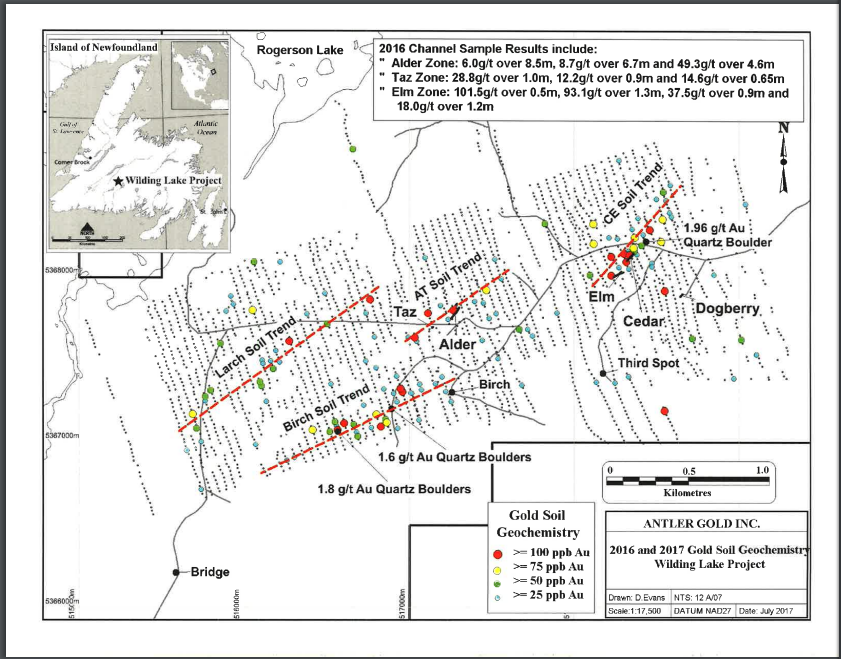 2016 and 2017 Soil Geochemistry Wilding Lake Project – News Release July 26th, 2017
Further in the August 30th, 2017 news release, Antler announced the discovery of new mineralized zones, Red Ochre and Raven. The Red Ochre Zone is located roughly 900 meters to the southwest of the Alder Zone, while the Raven Zone is located 400m to the northeast of the Red Ochre Zone.
Antler's systematic approach to exploration is clearly working and makes me confident that if there is more gold mineralization within their claim boundaries, they will find it!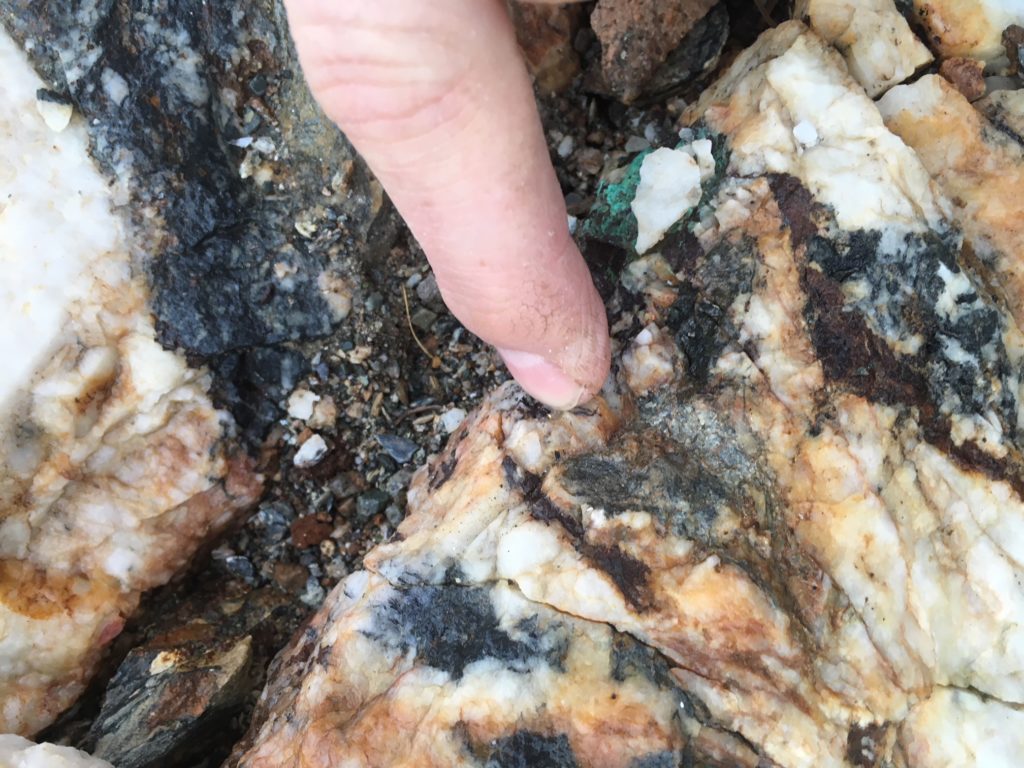 Pointing out a Fleck of Gold at the Taz Trench Outcrop
 Trenching Work
I have included a few pictures from my visit and a few images produced by Antler depicting the Elm Zone, Alder Zone and Dogberry Zone trenches, which have channel sampling data included from the quartz veins. These were a part of a January 24, 2017 news release.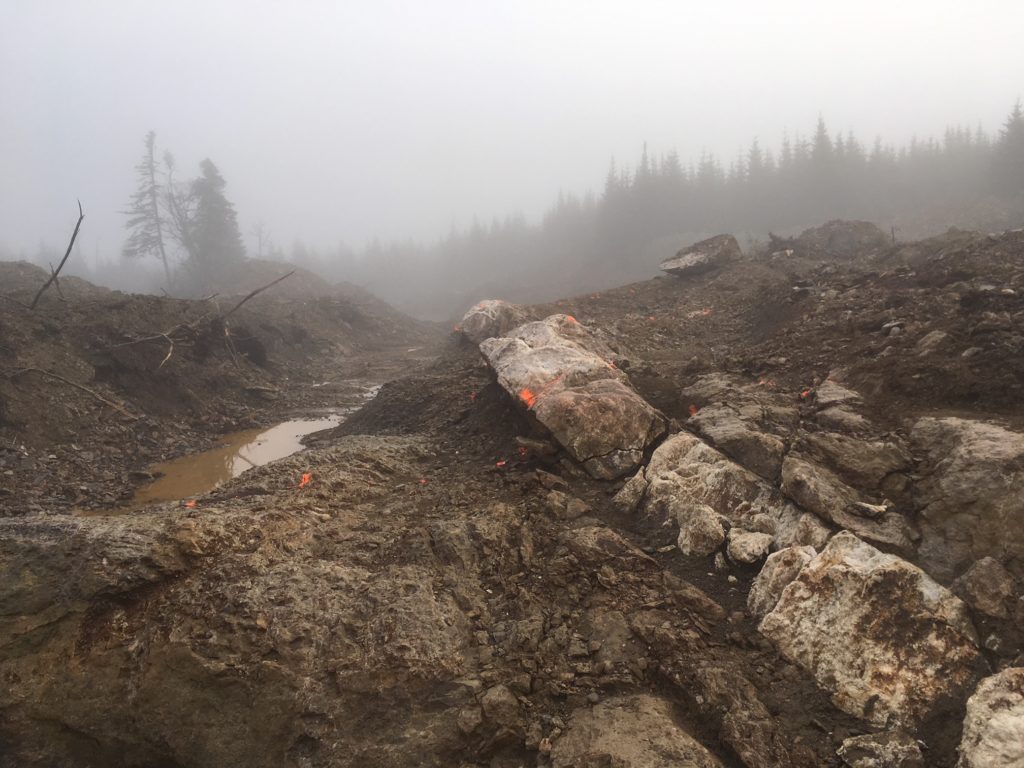 Elm Zone Trench – Quartz Vein Outcrop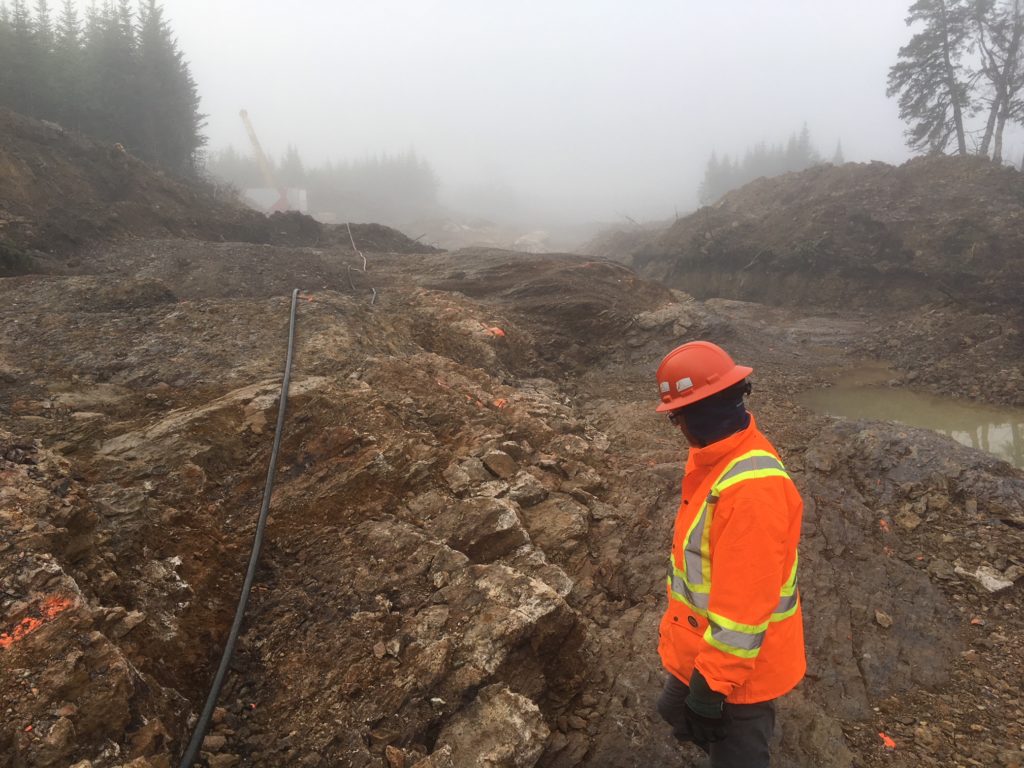 Elm Zone Trench – Exploration Manager, Dave Evans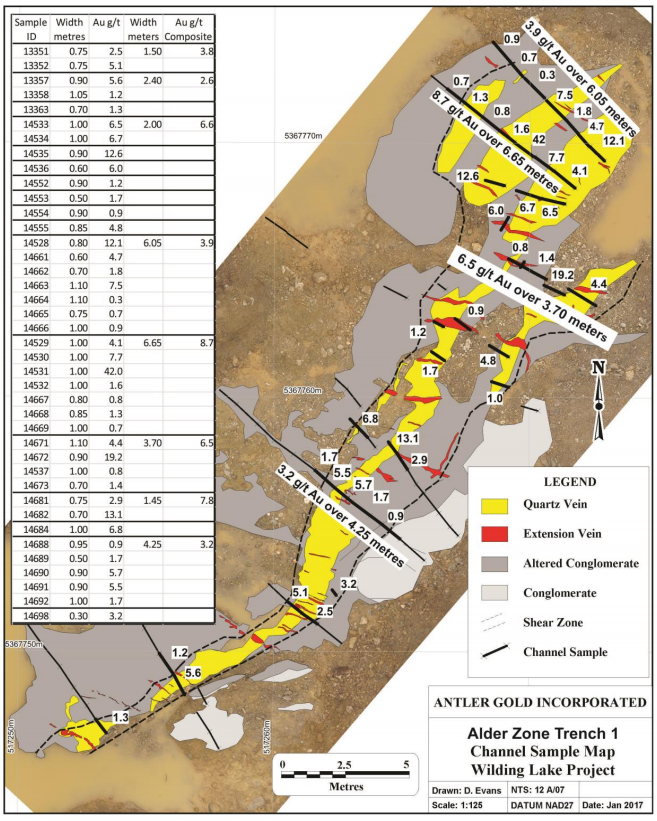 News Release Jan.24, 2017 – Alder Zone Trench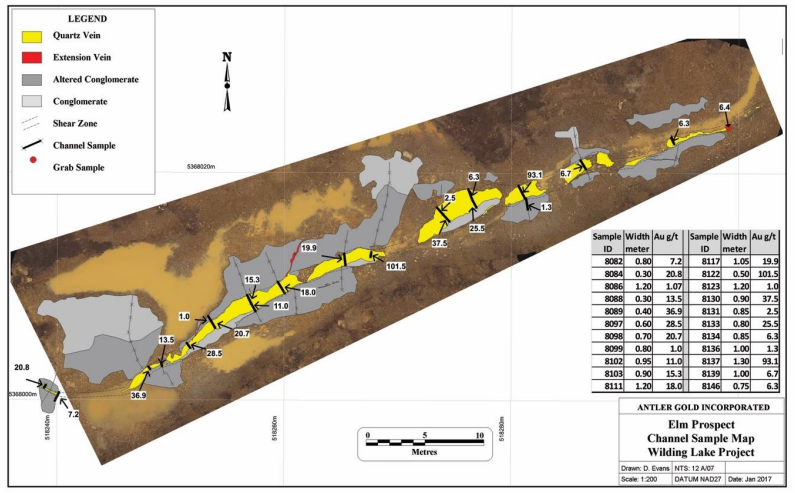 News Release Jan.24, 2017 – Elm Zone Trench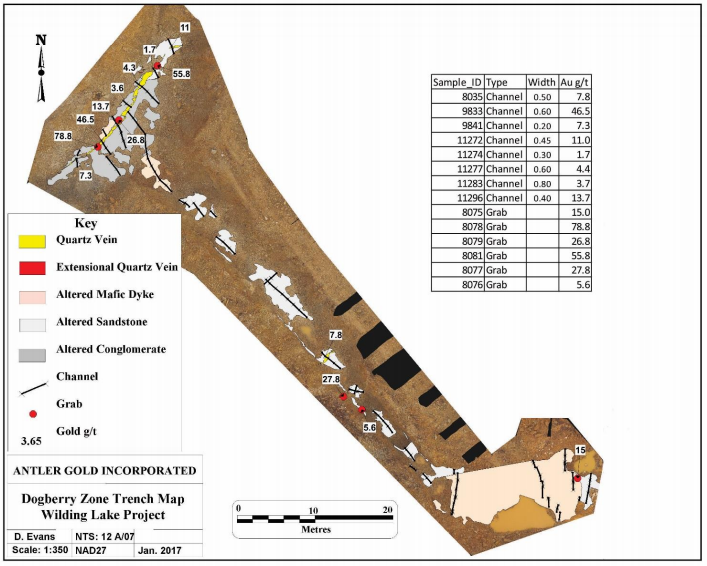 News Release Jan.24, 2017 – Dogberry Zone Trench
Newfoundland and Labrador – A New Frontier for Gold Exploration
Finally, for those who haven't read my article on Newfoundland and Labrador as a mining jurisdiction, and/or don't know much about this great province on Canada's East Coast, you can find it here.
Concluding Remarks
Touring the property with Exploration Manager, Dave Evans, was an exciting and very insightful experience. In any mineral exploration endeavour, a systematic approach that ensures dollars are spent wisely is vital to the success of the operation. In the case of Antler, I had the chance to see, first hand, the dividends that are paid when you have a defined process that's performed by an experienced team.
Secondly, having met Antler CEO, Dan Whittaker, this past summer in Toronto, I'm confident Antler shareholders, including myself, are in good hands moving forward. I am a buyer of Antler Gold and look forward to the first round of drill results in the coming weeks.
Don't want to miss a new investment idea, interview or financial product review? Become a Junior Stock Review VIP now – it's FREE!
Until next time,
Brian Leni  P.Eng
Founder – Junior Stock Review
Disclaimer: The following is not an investment recommendation, it is an investment idea. I am not a certified investment professional, nor do I know you and your individual investment needs. Please perform your own due diligence to decide whether this is a company(s) and sector that is best suited for your personal investment criteria. Junior Stock Review does not guarantee the accuracy of any of the analytics used in this report. I do own Antler Gold shares. I have NOT been compensated to write this article and have No business relationship with Antler Gold.