What's going to be the catalyst for the junior gold stocks to escape this sideways to downward movement? To me, the key to a momentum change is discovery. Although the market on a whole seems to be stuck in neutral, money has been injected into the best junior gold exploration teams, and because of this, I think it's only a matter of time before we get a stellar drill hole, which will bring eyes and cash back to the sector.
Supply and demand fundamentals control the direction of markets over the long term, and when looking ahead at almost any metal's supply fundamentals, I think it's clear that we're in for a metal supply crunch in the years ahead. Bull markets driven by supply destruction are very strong, mainly because it requires not only the discovery of new deposits, but those discoveries also have to be permitted developed, and that takes time.
It's my contention that the next bull market in metals will be discovery driven, as the world's major mining companies look to fill the supply gaps that are developing in most of their reserve and resource inventories.
In my opinion, buying the highest quality companies gives you the best possible odds of being right when the market turns. The company I'm going to share with you today, Northern Empire Resources Corporation, is, in my opinion, one of those high-quality companies, and they're poised to discover and expand their resources at the Sterling Gold Project in Nevada.
Let's take a look.
Northern Empire Resources Corp. (NM:TSXV, PSPGF:OTC Pink)
DTC Eligibility for its common shares listed on the OTC market in the United States
MCAP: $86.4 million (at the time of writing)
Shares: 66,586,700
Fully Diluted: 77,139,302
CASH: $16 million
Management/Insiders: 7.9%
Institutional Ownership: 32.7%
Coeur Mining: 11.6%
Imperial Metals: 3.7%
Northern Empire's People
Northern Empire is led by President and CEO, Michael Allen, who is a professional geologist by trade and has 20 years of experience in the mining industry. Allen has worked in various senior roles over the course of his career with Redcorp Ventures, Silver Standard Resources and, most recently, West Kirkland Mining. For those who are not familiar, West Kirkland Mining's gold project is located in Nevada, giving Allen 8 years of jurisdictional experience, and should prove to be an X-Factor when it comes to developing and exploring for gold on Northern Empire's Sterling Gold Project.
Additionally, Northern Empire has a strong Board of Directors, made up of individuals with extensive experience in the mining industry. The Board is led by Executive Chairman, Douglas Hurst. Hurst, a geologist by trade, has a great track record for developing mining companies into premier takeover candidates. Hurst was a founding executive of both International Royalty Corporation and Newmarket Gold Inc. Both companies were taken over, first International Royalty Corporation by Royal Gold for $700 million, and most recently, Newmarket Gold by Kirkland Lake Gold for $1 billion.
The Board is rounded out by people whose careers share a common characteristic – successful company building. Each member has been involved in at least one development success in their career, and to me, it's clear that this is the main goal for Northern Empire; to develop their Sterling Gold Project into a premier takeover candidate.
The other Board members are as follows:
Raymond Threlkeld has more than 32 years of experience within the mining industry. Threlkeld was Chairman of Newmarket Gold which, as previously stated, was purchased by Kirkland Lake Gold. He was also involved with Western Goldfields which was purchased by New Gold in 2009.
John Robins, a professional geologist by trade with 30 years of mining experience. He was a founder and Chairman of Kaminak Gold, which was purchased by Goldcorp for $520 million in 2016.
Adrian Fleming, a geologist by trade with over 30 years of experience in the mining industry. Fleming was President and Director of Underworld Resource Inc which was acquired by Kinross in 2010.  Fleming was an early mentor in Michael Allen's career when they both worked on the Hope Bay Gold Project.
Jim Paterson with 20 years of experience on the financial side of the mining business, and the founder, CEO and Director of Corsa Capital Ltd.
Darryl Cardey and Jeff Sundar both have several years of experience within the mining industry and were a part of the successful development and sale of Underworld Resources.
Nevada, United States
Northern Empire's 100% owned Sterling Gold Project is situated roughly 160 km northwest of Las Vegas, Nevada and encompasses a total of 14,109 acres over 4 contiguous claim blocks.  Nevada is situated in the western United States and has a long history of mining dating back to the 1840s. Although mining began over a 150 years ago, Nevada's real fame in the gold mining industry didn't come until the 1960s when 'Carlin Style' or sediment-hosted disseminated gold deposits started being mined.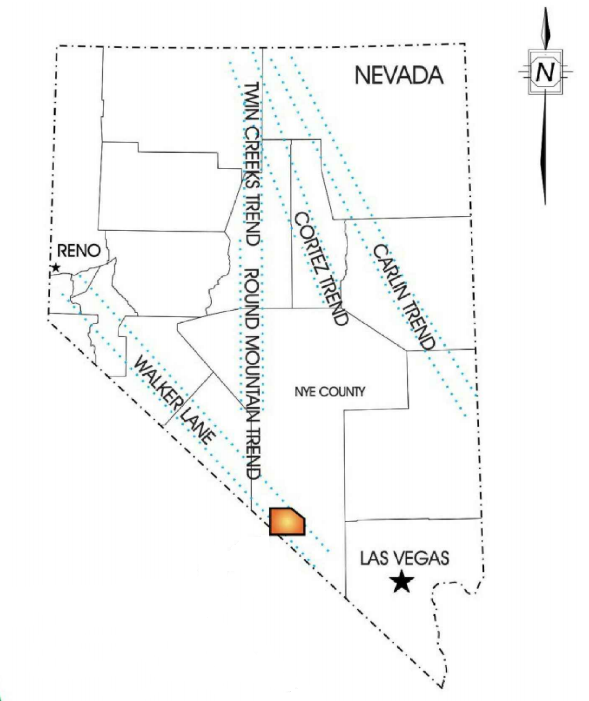 Why did Carlin Style gold deposits take so long to be mined? Simply, nobody saw them. Unlike the outcropping gold bearing epithermal veins that were discovered by early prospectors, Carlin Style gold is very fine grained and not visible to the naked eye.  Since the 1960s, Nevada has produced around 20 million ounces of gold, making it truly a world-class destination for gold mining.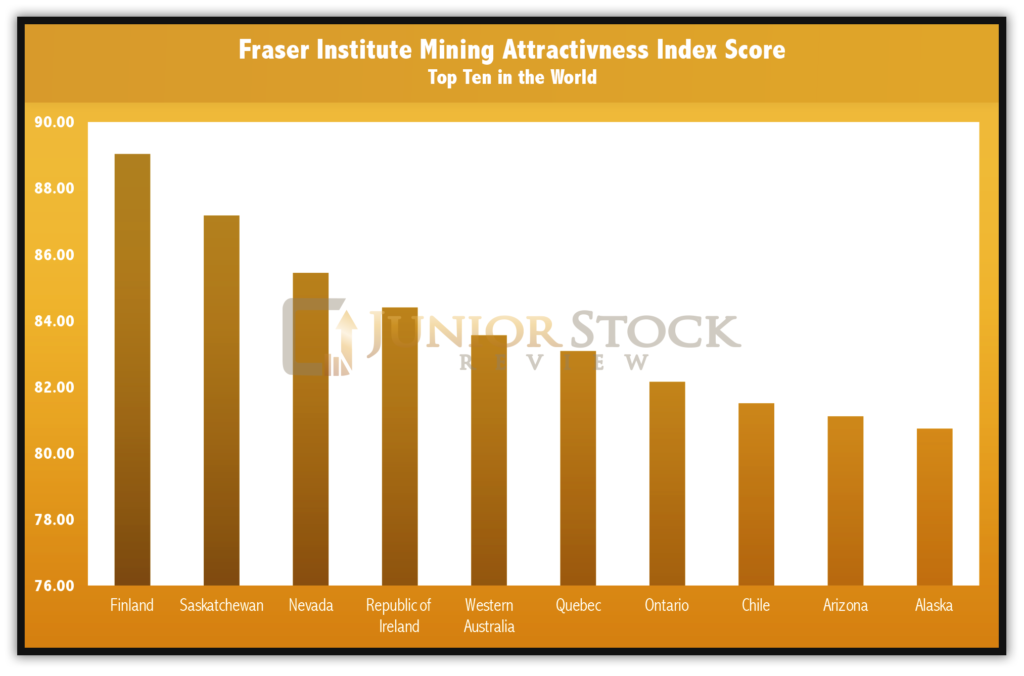 Given this, it comes as no surprise to me that the Fraser Institute issued a mining investment attractiveness score of 85.45, ranking Nevada 3rd in the world. The Fraser Institute's score is based on a mixture of criteria, which includes, but is not limited to, the jurisdiction's legal system, taxation regime, quality of infrastructure, political stability, and arguably most importantly, the jurisdiction's geological potential. In my opinion, in terms of mining investment, it doesn't get much better than Nevada.
Sterling Gold Project
The Sterling Gold Project has a Global Resource of 23,811,800 tonnes at 1.29 g/t for 985,000 ounces of gold and can be broken down into two key areas; the Sterling Mine, which is in the southern portion of the property, and the Crown Block, which resides in the north.
Sterling Mine
The Sterling Mine is a past gold producer with the surrounding area having historical ties that extend back to 1906, with the Panama Mine operating until 1940. The region then saw limited exploration until 1980 when the Sterling Mine began production. The Sterling Mine consists of 3 separate open pits and 2 underground mines, which produced 194,996 troy ounces from 853,984 tonnes of ore for an average grade of 7.44 g/t, over its 20 years in operation.
The Sterling Mine's deposit mineralization is Carlin Style and is amenable to heap leaching. In the past, the open pit and underground mined ore was placed onto heap leach pads and, without crushing, gold recoveries averaged 88%.
The Sterling Mine does have an existing pit constrained inferred resource of 3,081,000 tonnes at 2.57 g/t for 254,000 ounces of gold. The 'pit constrained inferred resource' refers to the estimated economic surface resources found within a 45-degree constant slope pit shell.
Additionally, there's a non-pit constrained inferred resource of 350,000 tonnes at 3.38 g/t (1.7 g/t cut-off) for a total of 38,000 ounces of gold. The non-pit inferred resource represents mineralization that could potentially be of economic interest, if selective underground mining of the mineralized zone, below the projected pit shell limits, was carried out.
NOTE: The Sterling Mine pit constrained inferred resource grade of 2.57 g/t is fantastic, especially if you consider that it's amenable to heap leaching for the extraction of its gold. This is a great example of the upside potential at the Sterling Gold Project, as Carlin Style gold mineralization that's mined in an open pit and has good grades can be very profitable!
Gold Production at the Sterling Mine
A major advantage to the past producing Sterling Mine is that its infrastructure is in place and ready for operation. In the photo below, you can see the layout of the processing areas: The active leach pad, the permitted leach pad, processing ponds and processing facility.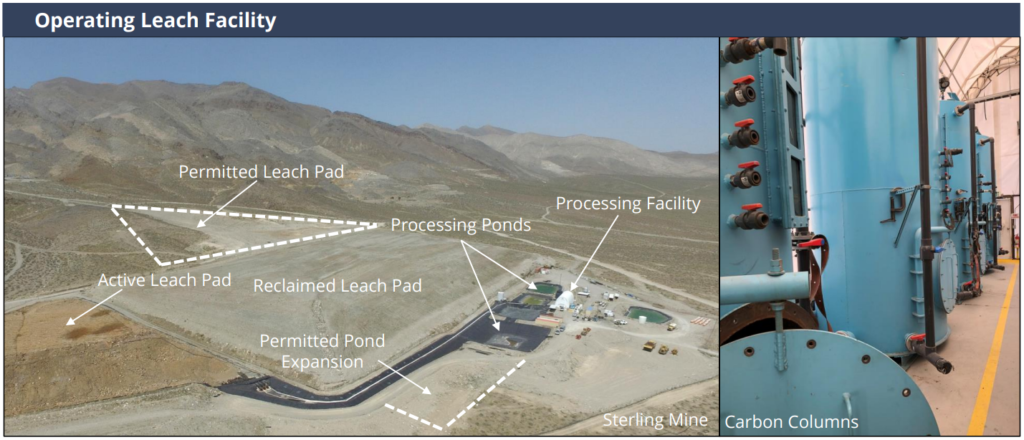 Additionally, from the satellite photo below, you can see the layout of the permitted open pits, Burro, Sterling and Ambrose. In the top right of the image is the processing area, as shown above. Finally, the 144 Zone portal, in the bottom right, gives access to the historical underground workings.
With the necessary permits in hand, Northern Empire has greater control over their production start date, which is an enviable position for most gold exploration and development companies. Moreover, as an investor, the fact that Northern Empire has the necessary production permits in hand is a huge plus, because it reduces the overall risk associated with the Project.
Sterling Mine Exploration Potential
While having the production permits and an inferred resource are the basis for what looks to be a promising future for Northern Empire, the most exciting part of their story, in my opinion, is the exploration potential of the property.
Exploration and infill drilling on the Sterling Mine will focus on the 2017 high grade drill holes that sit on the pit shell edge, as can be seen in the satellite photo below.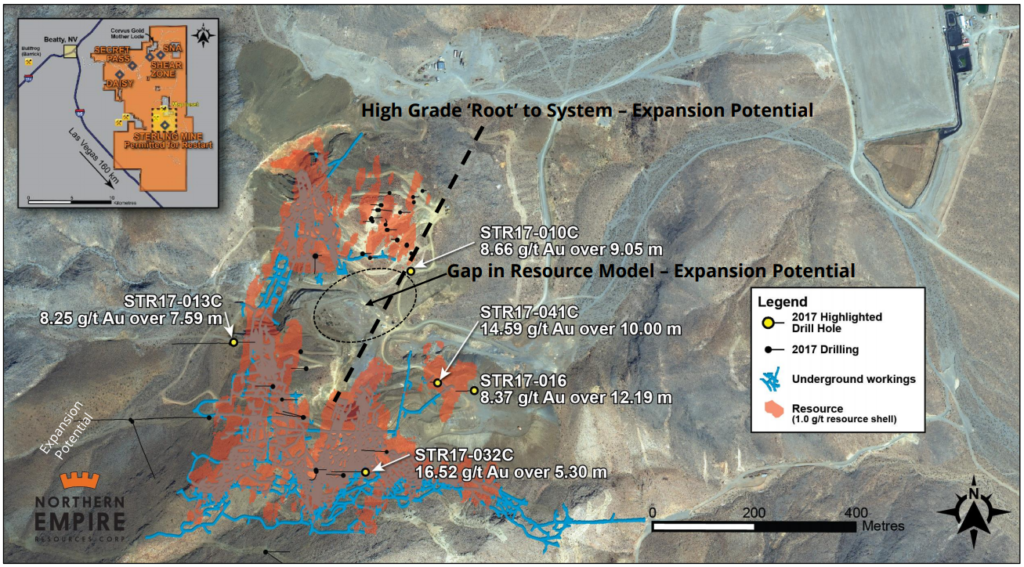 As well, in the computer-generated Sterling Mine model image, you can gain a better perspective on the 3 dimensional open pit shell and the location and orientation of the Burro Fault, which is thought to be one of the most important structures for the deposit. Other minor faults in the area trend north to north-northeast and are important in terms of the future exploration of the Sterling Mine area. As the Technical Report states,
"they are significant because they are intimately associated with mineralization, and were almost certainly conduits for hydrothermal fluids." ~ Technical Report – pg.7-8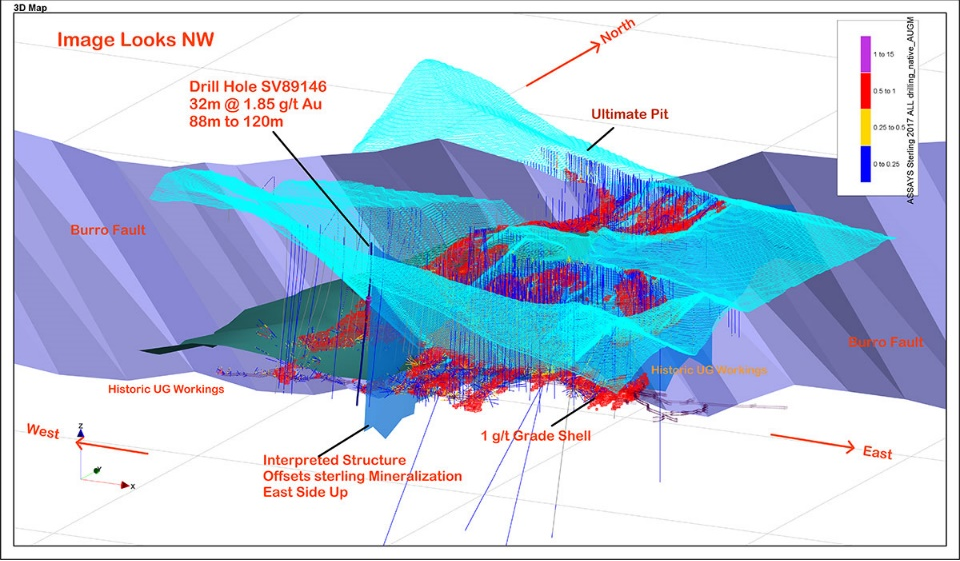 PUSH: Watch for drill results from the Sterling Mine. Further proof of continuity in the existing inferred resource and successful step out drilling will be major gains for the company.
The Crown of Northern Empire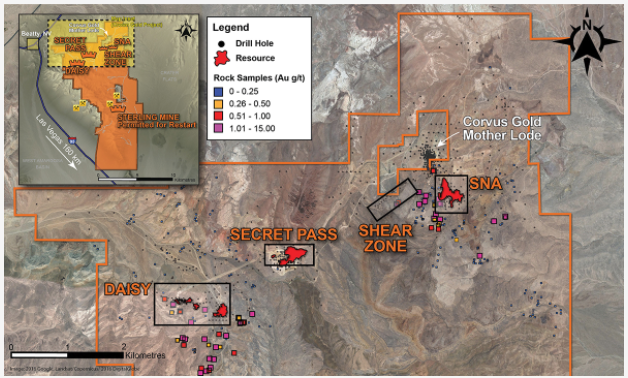 The Sterling Gold Project's north end is occupied by the Crown Block, which is further broken down into 4 main targets: Daisy Deposit, Secret Pass Deposit, SNA Deposit and Shear Zone. The target mineralization which is found in the Crown Block is concentrated around the same detachment fault structure that hosted Barrick Gold's past producing, roughly 2.3 million ounce Bullfrog gold mine.
The gold within the Daisy and SNA Deposits are carbonate-hosted and classified as Carlin-Style, while the Secret Pass is volcanic-hosted and classified as epithermal.
 
Daisy
The Crown Block's Daisy Deposit is a past producing open pit gold mine (Glamis/Rayrock), having produced 104,000 ounces of gold between 1997 and 2001. As listed in the Sterling Gold Project's inferred resource table, Daisy has an inferred resource of 5,362,000 tonnes at 1.34 g/t for 222,000 ounces of gold.
High grade surface samples, up to 15 g/t gold, and 2017 drilling suggest there is potential for expansion of the Daisy Deposit resource. Examining the satellite photo below, you can see the highlighted 2017 drill intercepts – holes D17-002, D17-001 and the 2018 drill intercept from hole D18-003C – and the location of high-grade surface samples which are represented by the purple squares.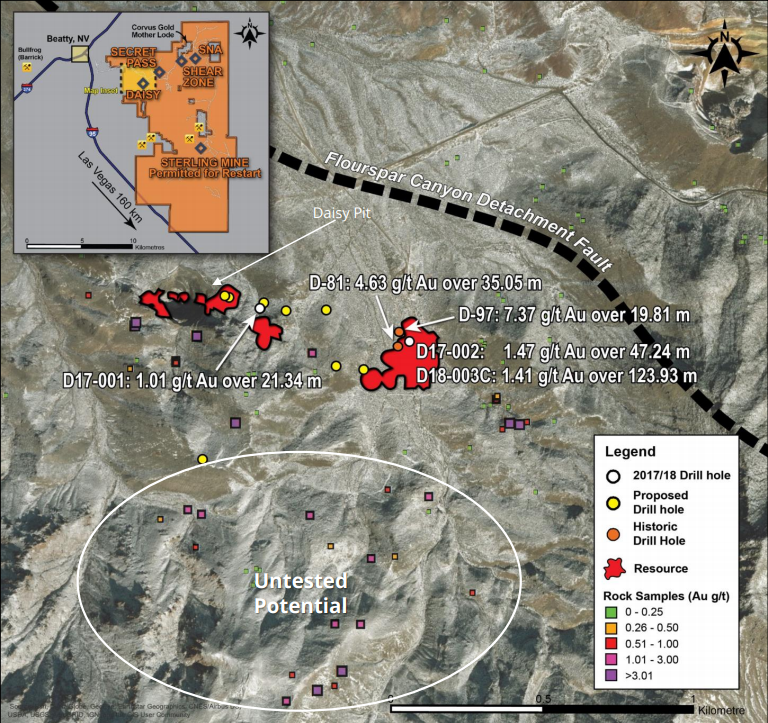 PUSH: 10 holes are planned for Daisy Deposit in the 2018 drill program. As mentioned above, one stellar drill intercept has already been released, assaying 1.41 g/t over 123.93m, a great result. Watch for more drill results from Daisy in the weeks ahead, as Northern Empire looks to expand the Daisy Resource down dip.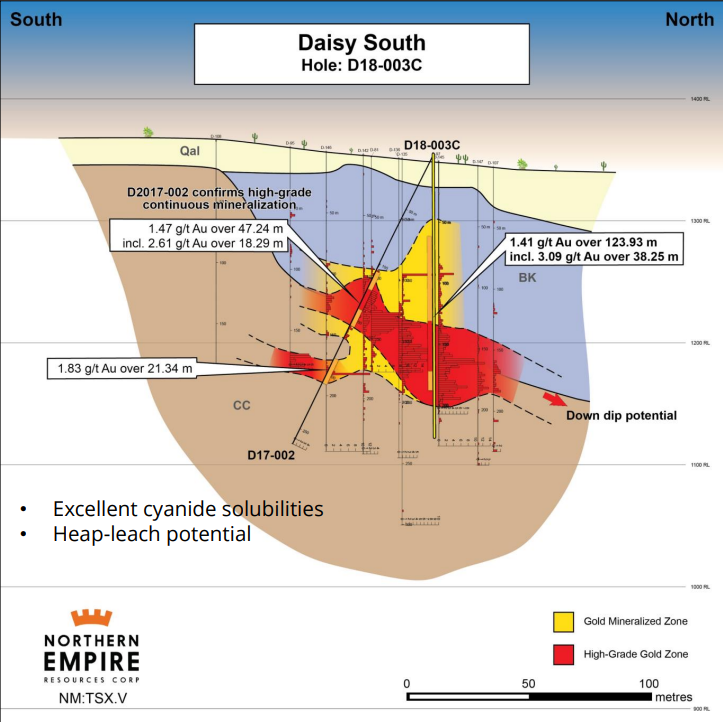 Daisy Deposit Cross-Section – Open Down Dip to the north
Secret Pass
The Secret Pass deposit, like Mother Lode, is volcanic-hosted with disseminated gold mineralization and has a current inferred resource of 11,143,000 tonnes at 0.93 g/t for 335,000 ounces of gold. 2017 drilling on the Secret Pass Deposit was highlighted by SP17-001: 82m @1.26 g/t Au and SP17-002: 30.48m @0.55 g/t Au. Additionally released on March 20th 2018 – SP18-003C: 70.0m @1.79 g/t.
All three drill holes can be found on the satellite photo of Secret Pass below, including the location of pending and proposed drill holes for 2018. With the purchase of additional claims south of the deposit, Northern Empire will be able to pursue hole D-164, which returned a huge intercept of 56.39m at 3.13 g/t.
PUSH: 15 holes are planned for the Secret Pass deposit in 2018. Watch for drill results in the weeks ahead, as Northern Empire looks to expand the resource both laterally and at depth.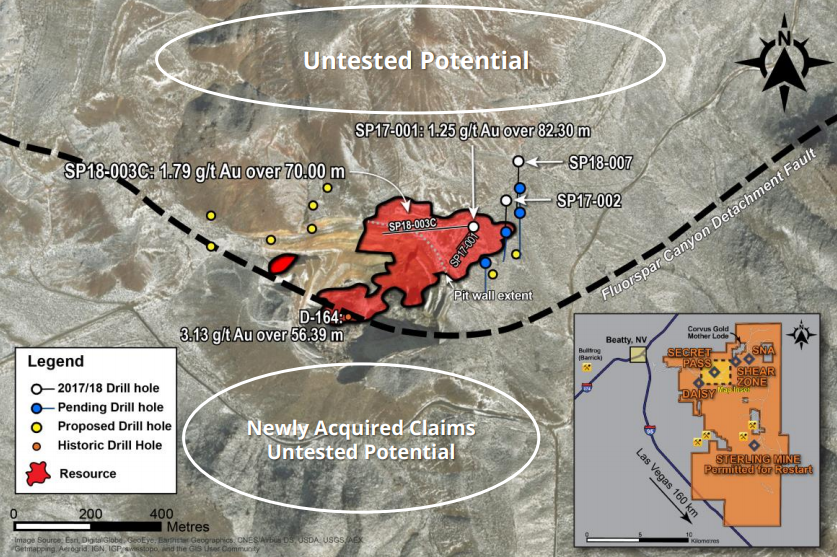 SNA Deposit
The SNA Deposit is a past producing mine and was formerly referred to as Sunday Night Anomaly from 1991 to 1995. The SNA Deposit hosts Carlin Style gold mineralization and has an inferred resource of 3,875,000 tonnes at 1.03 g/t for 126,000 ounces of gold.
Interestingly, the SNA Deposit lies in close proximity to Corvus Gold's Claim boundary, and more importantly, their Mother Lode open pit. In the satellite image below, you can see Corvus Gold's claim boundary outlined in orange, along with Northern Empire's SNA Deposit toward the bottom right.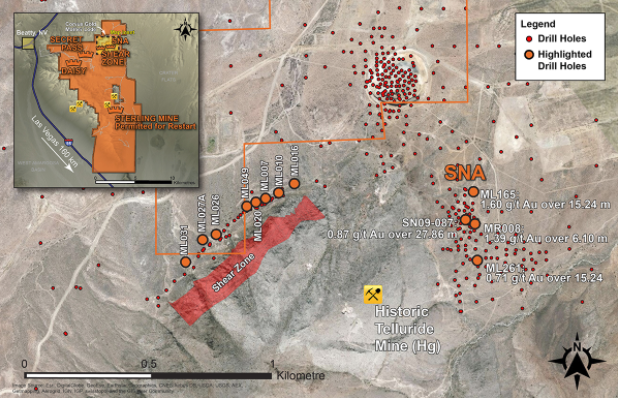 In Corvus Gold's 2017 drill program, they hit 51.8m of 1.86 g/t gold which included an interval of 19.8m of 3.43 g/t. The reason I mention this is because the hole was located roughly 8 meters from the claim boundary with Northern Empire. As you can see in the satellite image, Northern Empire's property completely surrounds Corvus Gold's Mother Lode deposit and needless to say, makes this is a very intriguing target area with a lot of potential for Northern Empire!
PUSH: +16 holes are planned for the SNA Deposit in the 2018 drill program. Watch for drill results as Northern Empire attempts to expand upon the SNA deposit resource.
Concluding Remarks
As I mentioned in my introduction, I believe that placing yourself in quality companies is the way to succeed in a business where the odds of success are typically stacked against you. That said, quality doesn't mean they're free of risk.
In terms of Northern Empire, I believe the biggest risk is an unsuccessful drill program in 2018, which would result in minimal to no improvement in their existing inferred resource. In this worst case scenario, I don't see much upside from today's current market cap.
While there's always a chance of coming up empty handed when exploring, I think there's a far better chance that their resource will increase, and with permits in-hand, Northern Empire's Sterling Mine is ready to go.
Recapping Northern Empire's strengths:
Good management team with extensive experience exploring and developing gold projects in Nevada.
The Fraser Institute ranks Nevada 3rd in the world for Mining Investment Attractiveness.
Northern Empire is in possession of all the necessary production permits to restart the Sterling Mine.
The Sterling Mine potential production scenario should be low cost, as the Carlin Style gold mineralization will be mined from an open pit and is amenable to heap-leaching.
Great exploration potential within the Sterling Mine and the Crown Block's 4 main target areas: Daisy Deposit, Secret Pass Deposit, SNA Deposit and Shear Zone.  15,000m of drilling planned for 2018.
Existing inferred global resource of 985,000 ounces of gold at 1.29 g/t.
CASH – $16 million!!
I am invested in Northern Empire and am looking forward to news flow over the coming months.
Don't want to miss a new investment idea, interview or financial product review? Become a Junior Stock Review VIP now – it's FREE!
Until next time,
Brian Leni  P.Eng
Founder – Junior Stock Review
Disclaimer: The following is not an investment recommendation, it is an investment idea. I am not a certified investment professional, nor do I know you and your individual investment needs. Please perform your own due diligence to decide whether this is a company and sector that is best suited for your personal investment criteria. I do own shares in Northern Empire Resources. All Northern Empire Resources' analytics were taken from their website and press release. Northern Empire Resources is a Sponsor of Junior Stock Review.